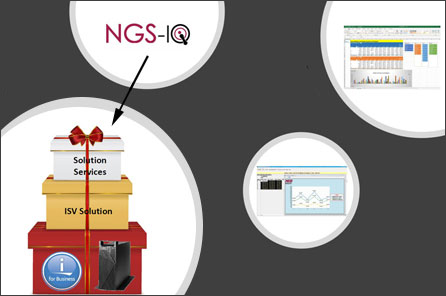 An IBM i Solution Edition is a specially priced IBM Power10 model S1014 4928 server (4 core), Power9 model S914 (4 or 6 core), or Power8 S814 (4 core) server configured with software from IBM and selected independent software vendors (ISVs).
NGS Named IBM Solution Edition ISV Partner
NGS is proud to be one of IBM's Solution Edition ISV partners. This partnership means you can save thousands of dollars on your qualifying new IBM server when you invest in NGS-IQ software, maintenance, or training within 90 days of ordering your new model IBM server.
Solution Edition Software Discounts
The table below shows the special Solution Edition discounts for IBM i Access, Rational Development Studio, Heritage Compilers, and ILE Compilers. IBM has not yet published the Solution Edition discounts it will offer with qualifying S1014 orders, but your IBM Business Partner can explain the additional savings and benefits of SAS and NVme storage options and IBM Lab Services vouchers.
IBM SOLUTION EDITION SOFTWARE PRICING
Prices subject to change. Speak with your IBM Business Partner for current pricing.
Eligibility Requirements:
The minimum NGS-IQ investment required to enjoy the reduced Solution Editing pricing is $6,500 on the S914 4-core server and $25,000 on the S914 6-core server.
The list below explains this and other IBM requirements. (IBM hasn't yet announced the investment requirement for the new S1014.)
Let us know what you think of this offer.
The server must be a new purchase, not an MES upgrade.
The server must be ordered with the appropriate Solution Edition feature code.
The offering must include new and/or upgrade software licenses and/or software support
and/or services from an ISV currently registered in the IBM Solution Edition program.
This software/support/service must be applicable to the machine being ordered.
Proof of purchase (for example, a copy of the invoice) from the registered ISV must be
provided to IBM upon request.

The proof must be dated within 90 days before or after the order date for the qualifying server.
To Learn More:

Request an NGS-IQ
Solution Edition Quote