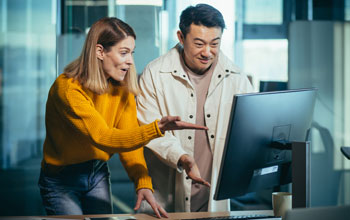 Evaluating query or analytics software?
There are many factors to consider.
Start by identifying your goals and the features with the most benefit to your organization.
• Are you hoping to reduce the time staff members
spend writing and revising programs and queries to
generate useful reports?
• Do you want your less technical users to write their
own queries?
• Are you focused on real-time analytics over operational data?
• Do you want a better way to deliver reports and files as Excel spreadsheets, Adobe PDF files, and email
attachments?
• Are you interested in adding modern reporting and analytics to your legacy ERP environment?
Let's talk.
As query, reporting, and analytics specialists, we can help you understand your alternatives. Naturally, we would like to show you our own product, NGS-IQ. But our knowledge extends beyond our own software, and we don't mind telling you about other solutions that might complement or compete with our own.
Conference Call Scheduling
Date: At your convenience
Time: At your convenience
Duration: 30 minutes
Location: Your desk