IBM Withdraws DB2 Web Query:
Software Maintenance Can't Be Renewed or Extended
Posted on October 17, 2023 by Bill Langston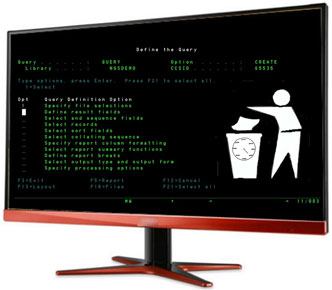 On October 10, 2023, IBM surprised many IBM i customers by announcing the immediate termination of all DB2 Web Query marketing, which covers all DB2 Web Query modules and licenses. They also said they wouldn't offer customers software maintenance beyond each customer's current term. So for most companies, technical support and program updates would end in the next year or two. IBM's announcement letter recommends companies look at alternative solutions.
This is a frustrating and unexpected dead end for companies that have implemented DB2 Web Query. While the software will continue to function, technical support may become less responsive over time as the most experienced IBM staff people are reassigned to higher priority projects or retire.
In our experience, DB2 Web Query customers fall into a few categories:
Light users with a few queries used by a handful of staff members
Moderate users with queries developed by an ISV, IBM consulting, or one staff member
Advanced users with a substantial investment in DB2 Web Query consulting and staff resources, queries integrated into applications, graphical visualizations, and more
If your company is in the light to moderate use category, shifting to an alternative shouldn't be too hard. If you're one of the shops in the advanced category, you face a complex migration strategy. At this point, we haven't seen ibi (formerly known as Information Builders, Inc.) announce a migration service. While DB2 Web Query has often been described as an IBM i version of ibi's WebFOCUS, migrations are normally time consuming and costly. Any ibi offering would most likely move customers to another platform. A key piece of your migration puzzle will be replacing proprietary DB2 Web Query meta data synonyms with SQL Views or some other interface.
Whichever category fits your company, we suggest you review alternatives while you still have IBM software maintenance. You're welcome to attend our upcoming webinar, "Planning Your Exit from DB2 Web Query", on November 8, 2023.
Posted in IBM i Marketplace | Comments