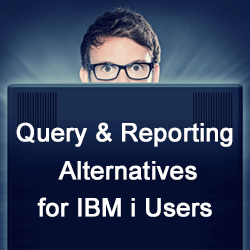 Webinar Details
Date: At your convenience
Time: At your convenience
Duration: 30 minutes
Location: Your desk
Evaluating query or business intelligence software? Check out NGS-IQ! It lets you query DB2, MySQL, SQL Server, Oracle, and other databases directly from your IBM i and create attention-getting Web reports, graphical dashboards, OLAP models, spreadsheets, and more. NGS-IQ blends function and simplicity to satisfy IT, power users, analysts, and executives. Enjoy point-click and drag-drop query development, offline development and analysis, conditional new fields, run-time prompting, integrated e-mail and FTP, security, and a Query/400 API to run and enhance Query/400 queries.
We also offer packaged analytical solutions – financial reporting, customer, sales, inventory, and healthcare – built over fully documented DB2-based data marts.
Give us 30 minutes for a quick overview, and then let us customize a proof-of-concept demonstration for your team.
Schedule Your Own Personal Webinar