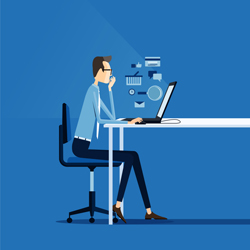 Please understand that Qport Office is not a replacement for Query/400. It enhances Query/400 output and saves you time.
NGS offers more comprehensive enterprise reporting and analytics solutions for companies who need more. Find out which NGS solution is right for you.
For a limited time, NGS is offering qualified IBM i customers (who are not already NGS customers) a two-concurrent user license of Qport Office without requiring a license fee. Read the Software License Agreement for complete details and fill out the form. Software maintenance is optional after 90 days and the software will continue to operate whether or not you pay the maintenance fee.
NOTE: To confirm that you own a license of IBM Query/400, please access a command line on your IBM i system and enter the command WRKQRY. If this command opens IBM Query/400, you own a license and can use it with NGS' Qport Office. If you see a message indicating Query/400 is not installed, please ask us for information about our alternative query and reporting solution, NGS-IQ.
This Agreement is entered into by and between New Generation Software, Inc. ("Company" or "NGS") and the Customer identified above with respect to the license by Customer of the computer software products and related user documentation designated below.
1. DEFINITION OF LICENSED PROGRAMS, LICENSE FEE AND WARRANTY PERIOD.
a. Licensed Programs. The Licensed Programs called Qport Office, as supplied in object code form by NGS, are the subject of the license granted hereunder and include the respective user documentation and all updates or changes to said Licensed Programs which may by provided by NGS to Customer under this or any other agreement.
b. License Fee. The License Fee will be then-current License Fee published by NGS for the Licensed Programs. NGS reserves the right to change its prices without notice.
c. Warranty Period. For ninety (90) days commencing upon delivery of the license activation codes for the Licensed Programs to Customer. License activation codes will be delivered by email.
2. DEFINITION OF DESIGNATED CPU(s). The Designated CPU(s) is the IBM POWER server (iSeries, System i, AS/400) specified by Customer upon ordering the Licensed Programs.
3. PRICE AND PAYMENT. Except for NGS's income taxes, the License Fee specified in Section 1 and any other amounts due hereunder are exclusive of federal, state or local sales, use, excise, or other taxes, duties, customs charges or withholding taxes as may be required by governmental authorities. The License Fee and any other amounts due are net amounts and are payable in full to NGS, in United States currency, without deduction for any of the above mentioned taxes, duties or charges which shall be paid by Customer. The License Fee is due and payable in full by Customer prior to the delivery of the Licensed Programs.
4. LICENSE GRANT. NGS grants to Customer, and Customer accepts, subject to the terms and conditions of this Agreement, non-transferable and non-exclusive license to use the Licensed Programs on the Designated CPU and any authorized Windows-based clients connected to it. Customer may use the Licensed Programs solely for its own internal operations and shall limit access to employees, contractors or consultants who are required to use the Licensed Programs for Customer's business. Customer agrees that the Licensed Programs may not be operated on any CPU (including an upgraded Designated CPU) other than the Designated CPU without the prior written approval of NGS. Approval by NGS of a new Designated CPU may be subject to payment of a transfer fee by Customer according to NGS's policy then in effect for such transfers. Customer agrees not to export the Licensed Programs.
Customer agrees that the license granted for any third party or supplier products included in the Licensed Programs will be subject to the terms and conditions of the license agreement provided and agreed to by Customer at the time of installation. Any "Named Viewers" specified for the Licensed Programs shall have the right to load, view and use Connected Presentations. "Connected Presentations" means an Adobe Flash application created through the use of the Licensed Programs that includes (i) embedded data extracted using the Licensed Programs from a spreadsheet data file and (ii) the capability of establishing a connection to an external data source.
5. LIMITED WARRANTY. NGS warrants that, during the Warranty Period specified in Section 1, a Licensed Program as delivered by NGS, if properly installed on the Designated CPU, will perform in substantial conformance with its respective user documentation. NGS's sole obligation and liability for any breach of this warranty shall be to remedy the error(s) in accordance with Section 6 below.
EXCEPT AS EXPRESSLY PROVIDED IN THIS SECTION 5 AND IN SECTION 11, NEITHER NGS NOR ITS SUPPLIERS MAKE ANY OTHER WARRANTY, WHETHER ORAL OR WRITTEN, EXPRESS OR IMPLIED, INCLUDING BUT NOT LIMITED TO THE IMPLIED WARRANTIES OF MERCHANTABILITY AND FITNESS FOR A PARTICULAR PURPOSE.
6. WARRANTY PERIOD MAINTENANCE SERVICES. During the Warranty Period specified in Section 1, NGS will provide Customer with maintenance and support services as are necessary to cause the Licensed Program to operate on the Designated CPU in substantial conformance with the respective user documentation provided by NGS and in compliance with the warranty provisions specified in section 5 above. In the event Customer's request for such services is caused by an equipment problem, other software or any reason other than the Licensed Program, NGS is not obligated to provide such services and reserves the right to charge for all such services performed by NGS at its hourly rates then in effect. The foregoing maintenance and support services ("Maintenance Services") will be provided by NGS as follows:
(a) Updates. NGS will provide one copy in object code form of such improvements, enhancements, extensions, and other modifications to the Licensed Programs, and related revisions to the respective user documentation (collectively, the "Updates") as are made generally available to all licensees and are not designated as new products which are separately priced by NGS. Customer agrees that its failure to apply Updates following their delivery may cause the Licensed Programs to continue to produce errors that have been reported by Customer and will relieve NGS of its obligation to provide Maintenance Services for such reported errors. Customer agrees to pay NGS for any reasonable media, shipping and handling charges actually incurred by NGS for the delivery of Updates.
(b) Telephone Support. Company will provide telephone support to Customer during Company's normal business days and hours. Following the Warranty Period, NGS reserves the right to provide telephone support only to those people who have completed the appropriate NGS product training classes.
7. MAINTENANCE SERVICES. Following the Warranty Period, NGS will continue to provide the Maintenance Services described in Section 6 on an annual fee basis. The annual charge for such services is twenty-one percent (21%) of the then-current License Fee of the Licensed Programs (the "Maintenance Fee"). Customer agrees that the then-current License Fee will be that published by NGS for the Designated CPU then in use by Customer. Customer agrees to pay annually in advance, upon receipt of invoice, to receive such services. Upon the expiration of the initial year of such services, the provisions of this Section 7 shall continue from year to year unless NGS shall change or cancel such services or fees by providing Customer with thirty (30) days' written notice prior to the anniversary date of the commencement of any new twelve (12) month period. Customer's failure to pay within thirty (30) days of receipt of invoice will relieve NGS of any obligation to provide Maintenance Services. If Customer cancels or fails to pay for Maintenance Services and later wishes to reactivate them, Customer agrees to pay NGS the Maintenance Fee for each annual period missed plus the Maintenance Fee for the then-current annual period. In the event of such reactivation, NGS will provide Maintenance Services on the terms and conditions specified above in sections 6 and 7 of the Agreement. NGS reserves the right to change or modify its polices and fees for Maintenance Services without notice.
8. TITLE AND PROPRIETARY RIGHTS IN LICENSED PROGRAMS. NGS warrants that it has the right to grant the license to the Licensed Programs. Customer acknowledges that the Licensed Programs are copyrighted and contain proprietary information and trade secrets owned by NGS or its suppliers. As an express condition of NGS entering into this Agreement, Customer agrees: (i) not to copy (except for Customer's archival purposes), modify or distribute the Licensed Programs; (ii) not to reverse engineer, reverse assemble or reverse compile the Licensed Programs; (iii) to take reasonable steps to prevent the Licensed Programs and the proprietary information contained therein from being disclosed to any unauthorized person; and (iv) not to remove any copyright, or other proprietary protection legends or notices from the Licensed Programs and to ensure that any copies thereof include the same. The obligations of Customer specified in this section shall survive the expiration or termination of this Agreement provided, however, that this Section 8, subject to the protection extended by statutory copyright laws, will not apply to information or materials provided by NGS which; (i) is or becomes publicly available, (ii) is declared not confidential by NGS in writing, (iii) is lawfully obtained from third parties who have not breached any obligation of confidentiality, or (iv) is previously known by Customer.
9. TERMINATION. NGS or Customer may terminate this Agreement at any time if the other party breaches any material term or provision hereof and fails to correct such breach within thirty (30) days written notice of such breach. Termination shall be in addition to all other remedies at law or in equity of the terminating party. Within fifteen (15) days after the termination of this Agreement, Customer shall return or destroy all Licensed Programs and shall provide signed written certification to NGS stating that the Licensed Programs and all copies thereof ever in Customer's possession have been returned to NGS or destroyed.
10. LIMITATION OF LIABILITY. NEITHER NGS NOR ITS SUPPLIERS SHALL BE LIABLE FOR ANY SPECIAL, INDIRECT, INCIDENTAL OR CONSEQUENTIAL DAMAGES RESULTING FROM OR ARISING OUT OF THE PERFORMANCE OR OBLIGATIONS OF THIS AGREEMENT WHETHER IN AN ACTION BASED ON CONTRACT OR TORT, INCLUDING NEGLIGENCE, EVEN IF NGS OR ITS SUPPLIERS ARE AWARE OF THE POSSIBILITY OF SUCH DAMAGES. IN NO EVENT SHALL NGS' OR ITS SUPPLIERS' LIABILITY TO CUSTOMER EXCEED THE AMOUNT PAID BY CUSTOMER TO NGS HEREUNDER WITH THE SOLE EXCEPTION OF NGS'S LIABILITY TO CUSTOMER UNDER SECTION 11 BELOW.
11. INFRINGEMENT INDEMNITY. NGS shall defend any suit or proceeding brought against Customer to the extent that such suit or proceeding is based on claim that the use of any Licensed Program, or any part thereof, infringes on any patent or copyright of the United States, or misappropriates a trade secret, if NGS is notified promptly of such claim in writing and given authority, information and assistance (at NGS's expense) for the defense of same. NGS shall pay all damages and costs awarded therein against Customer. If any such Licensed Program, or any part thereof, is held to constitute an infringement or a misappropriation, and use of the Licensed Program by Customer is enjoined, or NGS reasonably believes that such will be enjoined, then NGS may, at its sole option and its own expense, either: (i) procure for Customer the right to continue using such Licensed Program or part thereof; or (ii) replace such Licensed Program with a non-infringing product; or (iii) modify the same so as to make it non-infringing; or (iv) refund to Customer the applicable prorata amount of the License Fee paid for such Licensed Program upon the receipt by NGS of signed written certification from Customer that such Licensed Program and any copies thereof ever in Customer's possession have either been returned to NGS or destroyed, whereupon Customer's license for such Licensed Program will terminate. CUSTOMER AGREES THAT THE FOREGOING STATES THE EXCLUSIVE REMEDY OF CUSTOMER WITH RESPECT TO ANY ALLEGED PATENT OR COPYRIGHT INFRINGEMENT OR TRADE SECRET MISAPPROPRIATION.
12. ASSIGNMENT. Without NGS's prior written consent, Customer shall have neither the power nor the right to sell, assign, license, pledge or otherwise transfer, whether voluntarily or by operation of law, any of its rights under this Agreement or in and to the Licensed Programs, and any such attempt shall be void and of no effect.
13. U.S. GOVERNMENT RESTRICTED RIGHTS. The Licensed Programs are provided with Restricted Rights. Use, duplication or disclosure by the Government is subject to restrictions as set forth in Technical Data and Computer Software clause at FAR 52.227-19.
14. GENERAL PROVISIONS.
(a) Entire Agreement; Modification. This Agreement constitutes the entire Agreement between the parties with respect to the subject matter contained herein. No representations, inducements, agreements or understandings of any kind, either oral or written shall be binding upon the parties unless contained herein. This Agreement may not be changed except in a writing executed by both parties. In the event of any conflict between the terms and conditions of this Agreement and the terms and conditions of any purchase order or other document issued by Customer, whether or not accepted by NGS, the terms and conditions of this Agreement shall control.
(b) Governing Law; Severability. This Agreement shall be governed by the laws of the State of California, excluding that body of law pertaining to conflicts of law. In the event that any provision of this Agreement shall be determined to be illegal or otherwise unenforceable, the remaining provisions of this Agreement shall nevertheless remain in full force and effect.
(c) Notices. Any notices or demands permitted or required to be given shall be in writing and shall be deemed given when received by the party to whom sent.
(d) Effective Date. This Agreement shall become effective when NGS accepts it and provides activation codes to Customer. NGS reserves the right to validate the information provided by Customer and reserves the right to accept or reject this license at its sole discretion.